In 2014 St Thomas's has snapped up all three major Mareeba District Sports Trophies.  What an achievement!  At the district cross-country carnival in Term 2, St Thomas's were victorious with 15 students being selected for the Peninsula Regional Primary School Trials held in Cairns.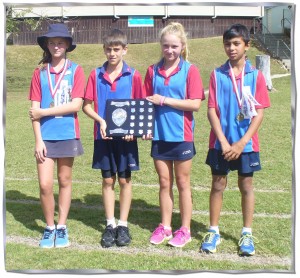 Then in Term 3 the trophies kept coming, when three students achieved age champions at the district track and field carnival.  These amazing results were instrumental in St Thomas's being awarded the overall school winners.  Adding to this, we won the aggregate trophy as well.  This result calculates total points in relation to school enrolments.  24 students from St Thomas's make up the total team of 50 competitors, who will perform at Peninsula Regional Track and Field Carnival, held at Barlow Park in Cairns in August.
Quality teaching staff who deliver a superior skills-based sporting programme at our school and dedication of the students has allowed all our talented students to achieve to their full potential with great success.