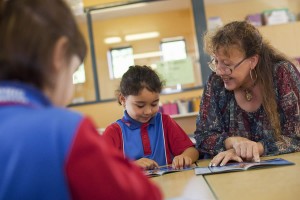 The school community recognises and encourages the parents as the primary educators of their children and works in partnership with all families to help children achieve to their potential. Parents are welcomed and encouraged to participate in the life of the school in many ways. Whether it be classroom assistance, covering books in the Library, working in the Tuckshop or being an active member of the P&F, all parent participation is valued and appreciated.
If you are available to assist at our school you will need to complete the online training prior to volunteering https://www.cns.catholic.edu.au/our-school-communities/parent-engagement/volunteer-training/
Parents and Friends Association
All parents are members of the school Parents and Friends Association. In the spirit of community and valuing your child's education, parents are encouraged to take an active role in the life of the school through the P&F Committee. The P&F meet twice a term, on the Wednesdays of Week 3 & Week 7 each term at 5:30pm in the staffroom. Parents with children enrolled at our school can view minutes and finance reports in Parent Portal.
For more information about the P&F visit www.pandf.org.au