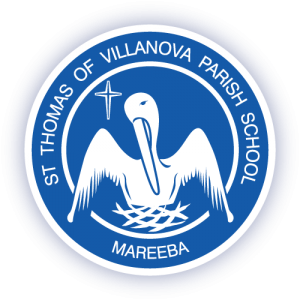 In 2009 our school name changed from St Thomas' Primary School to St Thomas of Villanova Parish School, to more clearly signify our historical link with St Thomas of Villanova church and parish.
In consultation with Fr Rob Greenup OSA (Parish Priest 1995 – 2010) it was decided to create a visible link between the church and the school.  Whilst retaining the Mercy Cross, a symbol of St Thomas of Villanova, the pelican, was added to reflect this link.
St Thomas was born in Spain, in 1487 and was brought up in the town of Villaneuva de los Infantes. He had a religious upbringing of prayer, reverence for the name of Jesus, devotion to Mary and generosity to the poor.
Thomas became a novice in the Order of St Augustine 1516, was ordained into the priesthood and became a bishop in 1544.  Thomas' generosity towards the poor gained him the title, "Father of the Poor".  He also became known as The Pelican.  The image of a pelican wounding herself to feed her young with her own blood symbolizes complete self-giving.
Brand Name

The brand is a distinguishing name and symbol which will sometimes be used on its own (e.g. on letterheads) and sometimes in conjunction with the logo (e.g. on the sign currently at the front of the school).