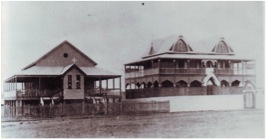 Established in 1909 by the Sisters of Mercy, St Thomas' has a current enrolment of approximately 450 children.  The school was named Good Counsel up until the early 1950s when it was renamed St Thomas' after the patron of the Parish, St Thomas of Villanova.  Initial enrolments were around 50 students, however from the 1920s an increase in numbers became evident.  In 1932 the school had 119 children and a teaching staff of five sisters.
For a period of two years during World War Two, the state school was taken over by the army, so St Thomas' accommodated the entire school population of Mareeba.  The Catholic children had school from 8.30am until 12.30pm and the state school children had school from 1.30pm to 4.30pm.  By the mid 1950s, the school's enrolment had increased to 220. A preschool was also introduced during this time but was discontinued in 1955.
The first lay teacher, Mrs Elaine Seary was employed in 1966 and in 1974, the old school building which had been in use since 1909 was demolished to make way for a new block of classrooms and a staff room.
The convent was demolished in 1999, with the land being used to build a double-unit Preschool for 100 children.
Between 1999 and 2010 St Thomas' underwent several major capital works. In 2009 our school name changed from St Thomas' Primary School to St Thomas of Villanova Parish School to more clearly signify our historical link with St Thomas of Villanova church and parish.
In 2003 the school sports houses were changed and increased from two to four.  One house was named Power (YELLOW) after Mother Gertrude Power, one of the founding Sisters of Mercy and another Mills (BLUE) after the last Sister and Religious Principal, Sister Mary Mills.  The other two houses Phelan (PURPLE) and O'Connor (ORANGE) are named after the two longest serving Augustinian Priests, Fr Joseph Phelan and Fr Maurice O'Connor.
Today there are approximately 405 students enrolled at St Thomas' and the school continues the goal of Catholic Education; to foster a Christian community and a belief in the message of Jesus Christ alongside a balanced and quality education.
St Thomas' has a welcoming feel to it and a group of highly dedicated and motivated parents who truly assist with the provision of the best educational environment possible for their children, through their hard work and commitment. St Thomas' is also fortunate to have a skilled staff who see their role as nurturers of the faith and are committed to their role as Catholic educators.